The SwissSarcomaNetwork aims at improving and ensuring the quality of sarcoma patient care in Switzerland.
Sarcomas belong to the rare cancers, representing about 1% of all malignant tumors and showing a wide variety of histologically as well as biologically different entities. Long term outcome is largely depending on consistent diagnostic and therapeutic concepts involving all specialities. Worldwide, up to half of the sarcoma patients are not managed according to established clinical guidelines which has considerable impact on long term outcome. In the last years, efforts to improve outcome have been directed towards centralization of care, hereby assuming that volume equals expertise, availability of best technical equipment and hence quality. This centralization approach strongly reflects the view of the health care system and to a far less extent the process from the patient's first presentation with symptoms until the end of sarcoma multimodal therapy and beyond. For reasons such as mountainous geography, four different main languages and the reluctance of patients to move and travel far, Switzerland has many hospitals within short distances which are more or less independently organized within 26 cantons/counties. Because of these conditions, sarcoma experts are working in many different institutions. For the present time, only a minority is organized within dedicated treatment networks and hence does not follow established guidelines for the management of sarcoma patients. Even in regions with a high density of medical services, insufficiently planned excisions of a lump, on histological work up turning out to be a sarcoma, occur in more than 20%. Furthermore, sarcoma surgery is subdivided into anatomical regions, for instance visceral, thoracic or orthopedic, as well as the tissue of tumor origin such as bone or soft tissue, although they all share the same biological background. Children and adolescents traditionally have been cared for by pediatric oncologists, in Switzerland provided by one of the 9 SPOG centers (Swiss Pediatric Oncology Group) building the network of pediatric oncology in Switzerland. No institutionalized settings exist for the special group of young adults although there is enough evidence that not only tumor biology is different compared to later in life but also their special needs are not fully met in adult oncologies. Taken all these facts together, it is obvious that sarcoma expertise must not be attributed to one single person, discipline or even institution. The complexity of the management of a sarcoma patient is far too complex and requires close collaboration of all involved disciplines on an equivalent background.
In order to improve and ensure the quality of the entire process in the management of a sarcoma patients - right from the first symptoms to the end of multimodal and multidisciplinary treatment and even beyond - we feel to rethink and reorganize our current approach of sarcoma treatment and to define clinical practical guidelines to be followed by all sarcoma care givers.
p>Instead of institutions keeping on fighting for patient numbers, sarcoma experts from all interested institutions are invited to work together in the frame of a national network in order to continuously share, exchange and improve their experience and knowledge and define diagnostic and therapeutic pathways to be followed by all care givers. Decisions on procedures and management will then no longer be depending on the opinion of one person only. We therefore do believe that the constitution of a «network of excellence» may represent an indispensable alternative to the currently ongoing unsatisfying geographic centralization efforts that do not meet all the complex needs and concerns in the comprehensive management of sarcoma patients of all age groups.
For all these reasons, we establish the SwissSarcomaNetwork to bring sarcoma experts together across and beyond institutions in Switzerland.
The main objective of the SwissSarcomaNetwork is to improve and ensure the quality of sarcoma patient care in Switzerland.
Missions
To foster inter-institutional and interdisciplinary sarcoma care roadmaps covering the complete patients pathway from the first presentation to the end of treatment and follow up care for pediatric, adolescent and adult patients with malignant bone and soft tissue tumors, independent of anatomical sites.
To improve the quality of sarcoma patient care, through continued education, teaching and research thereby establishing educational policies.
To build the sarcoma service platform, to strengthen and provide sarcoma competence in Switzerland for pediatric, adolescent and adult patients through close cooperation among all participating institutions .
To establish diagnostic and clinical pathways including binding recommendations und requirements for all diagnostic and therapeutic modalities.
To establish a prospective sarcoma data base (registry) enabling the network to foster research projects and to become an attractive international partner for collaborations both on clinical trials as well as research projects.
To establish a quality assurance system on outcome and comprehensive care processes.
Objectives
To run a weekly tumor board, the SwissSarcomaBoard, to interdisciplinarily and interinstitutionally define risk-adapted, patient-focused pre- and post-treatment strategies for each sarcoma patient across Switzerland.
Shared care by interinstitutional exchange of specialized surgical experts in their field.
To establish and maintain a prospective sarcoma data base (registry) by web-based access.
To define and ensure indicators for quality of care of all sarcoma patients.
To establish a quality assurance system on outcome and comprehensive care processes.
To establish educational policies comprising teaching, research and organization of continuous education events in the field.
The mission of the SwissSarcomaNetwork is to provide excellent quality of sarcoma patient care in Switzerland. To achieve this, international embedding of the SwissSarcomaNetwork (SSN) is of the utmost importance, to foster not only the medical exchange to set, review and improve the highest possible quality of care in Switzerland, but also to team up with other well established international networks. For these reasons, we have established an International Advisory Board of Sarcoma Experts.
The missions of the International Advisory Board for the SSN include:
to provide second opinions for patients being discussed at the SwissSarcomaBoard
to support the establishment of Sarcoma Guidelines (based on ESMO and existing Swiss Guidelines) as well as good clinical practice standards within the SSN
to support the implementation and the use of the SwissSarcomaRegister to define quality sarcoma care
to provide yearly instructional course lectures in their domain
to act as advisor for the establishment of a E-learning tool.
The international Sarcoma Advisory Board of the SSN represents an international group of world renowned experts in the sarcoma discipline, and includes the following experts: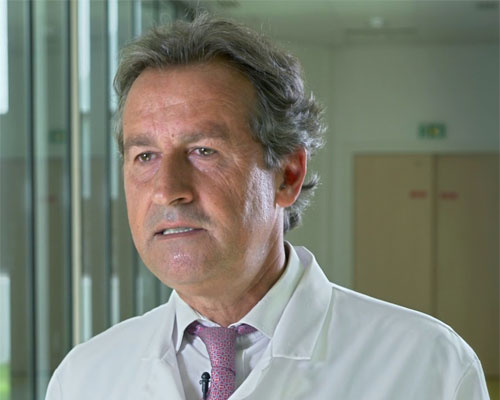 Prof. Axel LeCesne
Coordinator of the International Advisory Board of SSN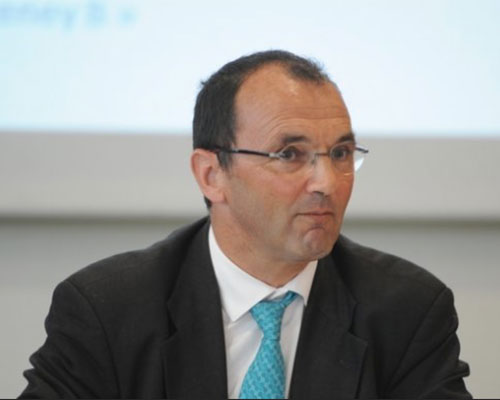 Prof. Jean-Yves Blay
Prof. Javier Martin-Broto
Chair of Sarcoma Center, Sarcoma Medical Oncologist, Fundación Jimenez Diaz University Hospital, Madrid
Founder & Vice-President GEIS (Spanish Group for Research on Sarcomas)
Founder & Consortium Coordinator SELNET (Sarcoma European LatinAmerican Network)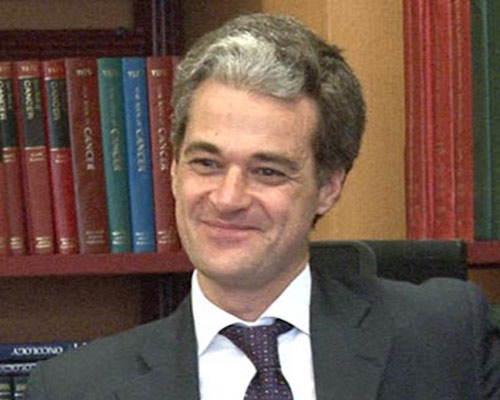 Prof. Alessandro Gronchi
Chair of Sarcoma Service, Istituto Nazionale Tumori
Chair Soft Tissue Sarcoma Committee of the Italian Sarcoma Group (ISG)
President of Italian Society of Surgical Oncology
Past-Chair of EORTC Soft tissue and Bone Sarcoma Group
Past-President of CTOS
Founder of Trans-Atlantic Retro-Peritoneal Sarcoma Working Group (TARPSWG)
The Swiss Sarcoma Network
Standard Operating Procedures (SOP)
A. Sarcoma Board Meeting
B. Reporting Medical Analysis of Procedures
C. Outpatient Consultations
D. Register
Sarcomas belong to a heterogenic group of mesenchymal tumors affecting either soft tissues (common), or bones (rare lesions). The differential diagnosis of sarcomas is often difficult due to the general rarity of this tumor group compared to epithelial of hematologic tumors on one hand, and to the large number of entities with partially overlapping histopathologic properties on the other. Recent years led to deepened understanding of the complex genetic background of mesenchymal neoplasia and widening of the spectrum of diagnostic pathologic tools allowing better definitions and identification of individual tumor subtypes.
The recently published (early 2020), currently valid WHO Classification of Soft Tissue and Bone Tumors lists over 100 tumor entities including variants, often characterized by specific genetic aberrations, which can be detected by molecular diagnostic studies.
Establishing the precise tissue diagnosis of a soft tissue or bone tumor is of immense importance for the choice of the correct treatment strategy for every patient. The histologic diagnostics of sarcomas must be performed by experienced pathologists, who are involved in sarcoma diagnostics on a daily basis and who have access to auxiliary studies.
It is well documented in the literature that the incorrect histopathological diagnosis may lead to the initiation of false therapy with severe deleterious consequences for the affected patient. Due to rarity of soft tissue and bone tumors and inherent difficulties in their understanding and diagnostics, the discrepancies in expert opinion may vary from the initial histopathologic diagnosis in up to one third of cases. Mandatory systematic review of all of the diagnoses by reference pathology as well as regular correlation of histopathologic findings with clinical situation and imaging during multidisciplinary tumor boards ensures the correctness of the histopathological diagnostics.
Requests for second opinion of biopsy samples of soft tissue and bone tumors:
Contact:
Submission of all histological slides and at least one representative paraffin block.
Full written documentation, incl. original histological reports.
The reference pathology review of biopsy material of the patients referred to the Swiss Sarcoma Network (SSN) is coordinated by Prof. Beata Bode-Lesniewska, an experienced pathologist with many years of expertise in histopathology of mesenchymal neoplasia, in collaboration with the Working Group on Sarcoma (WGS) of the Swiss Society of Pathology (SSPath).
Current biopsy material of all patients listed for sarcoma board is either directly diagnosed by, or reviewed by reference pathology on a weekly basis. The histopathological results of individual patients are presented every week during the sarcoma board. The concurrent referral of the patient for the discussion in sarcoma board and initiation of the reference review of histopathological diagnoses at the same time ensures the quality of the pathologic diagnoses and prevents delays in decision making on the patient management.
The quality of the histopathological diagnoses of the SSN patients is reviewed and analysed biannually by the WGS group of the Swiss Society of Pathology (SSPath).
Requests for second opinion of biopsy samples of soft tissue and bone tumors:
Contact:
Submission of all histological slides and at least one representative paraffin block.
Full written documentation, incl. original histological reports.
Several working groups related to various topics of pathological diagnostics are organized by the Swiss Society of Pathology (SSPath). Regarding sarcoma, there are a soft tissue and bone working group. Working Group on Sarcoma (WGS) of the SSPath is an active group of pathologists from many different Swiss institutes, who are interested in soft tissue mesenchymal neoplasia and meet biannually since 1990-ies, coordinated originally by Prof. Gernot Jundt (University Hospital Basel). Prof. Beata Bode-Lesniewska has been organizing the WGS meetings since 2003. The multidisciplinary (incl. radiologists) Swiss Bone Club of the Bone Tumor Referral Center in Basel, the corresponding bone working group on sarcomas of the SSPath, is organized by Prof. Daniel Baumhoer, and meets also twice yearly.
The participants of the meetings of the Working Group on Sarcoma (WGS) discuss the new developments in our understanding of mesenchymal tumors based on interesting case examples submitted by its members. The histopathological diagnoses of the sarcomas of the SSN patients are retrospectively reviewed with deepened discussion on unclear findings.
Upcoming Events
January 13, 2022

Webinar: Challenges in creating national sarcoma networks
Prof. Jean-Yves Blay, Lyon, FRANCE

February 3, 2022

Webinar: Multidisciplinary Case Discussion
Multidisciplinary presentation of up to four cases, discussed by an expert panel

March 3, 2022

Webinar: How close is too close – multidisciplinary surgical margin assessment of soft tissue sarcoma
Jay Wunder, Toronto, CANADA

April 7, 2022

Webinar: Multidisciplinary Case Discussion
Multidisciplinary presentation of up to four cases, discussed by an expert panel

May 5, 2022

Webinar: Predictive measures for individualizing therapy incl. clinical trials
Prof. Alessandro Gronchi, Milano, ITALY

June 9, 2022

Webinar: Multidisciplinary Case Discussion
Multidisciplinary presentation of up to four cases, discussed by an expert panel

July 7, 2022

Webinar: Synovial sarcoma: Just one disease? From epidemiology to current management of late stage disease
Prof. Javier-Martin Broto, Madrid, SPAIN

August 18, 2022

Webinar: Multidisciplinary Case Discussion
Multidisciplinary presentation of up to four cases, discussed by an expert panel

September 10, 2022

Webinar: Sarcoma translational research: What can the patient expect next?
Frédéric Chibon, t.b.c.

October 20, 2022

Webinar: Multidisciplinary Case Discussion
Multidisciplinary presentation of up to four cases, discussed by an expert panel

November 3, 2022

Webinar: Post-ASCO, EMSOS, CTOS
Prof. Axel Le Cesne, Villejuif Cedex, FRANCE

December 8, 2022

Webinar: Multidisciplinary Case Discussion
Multidisciplinary presentation of up to four cases, discussed by an expert panel
Verein
Prof. Stefan Breitenstein
President

Prof. Gabriela Studer
Vice-President

Swiss Sarcoma Network
Geschäftsstelle:
Frau Manuela Reich
Brauerstrasse 15
Postfach 834
8401 Winterthur